Product Lifecycle
The Product Ownership Gap: How Blustream Fits Within Your Stack
Discover the importance of personalized product ownership experiences in the fast-paced digital age and how Blustream can help businesses build lasting customer relationships and drive sustainable growth.
---
In the fast-paced digital age, marketing platforms have become an indispensable tool for businesses seeking to acquire, engage, and retain customers. Such platforms can offer a variety of benefits from advanced analytics to customer profiling, but something has been missing-- personalized product ownership experiences.
Sure, companies can send communications at scale, segmented by purchase behavior and website visits, they can even "personalize" communications with names and purchased products. Heck, they might even throw in a coupon to get a customer to come back for more.
But the thing that companies are truly missing -- and customers are craving -- are real and meaningful connections. Relationships that are powered by zero-party data lead to communications that demonstrate genuine care and are centered around the products customers purchase. At Blustream, we call this the "product ownership experience" and this is becoming a critical necessity for businesses today.
Personalized Product Ownership Experiences
The product ownership experience encompasses the lifecycle experience a customer has with a product from the moment they unbox and begin to enjoy it. Many companies ship off their products and expect customers to reach out when they need help rather than proactively engaging in this critical moment. This lack of communication leads to higher return rates, increased churn, and the need to spend more money—up to 25x more than keeping existing customers-- acquiring new ones.1 With personalized product ownership, companies can ask questions about how their customer is enjoying a product, get to know if they are a new user, and provide tips for enjoyment, usage, and care. In return, customers feel cared for, understood, and connected to their products and the brands that sell them.
What Current Platforms Neglect
Current platforms aren't capable of powering personalized product ownership experiences or powering the conversations that lead to true brand loyalty. They are built to acquire new customers and convert prospects into buyers. They're really great at it, too! However, meaningful connections cannot be built using technology built for promotional automation.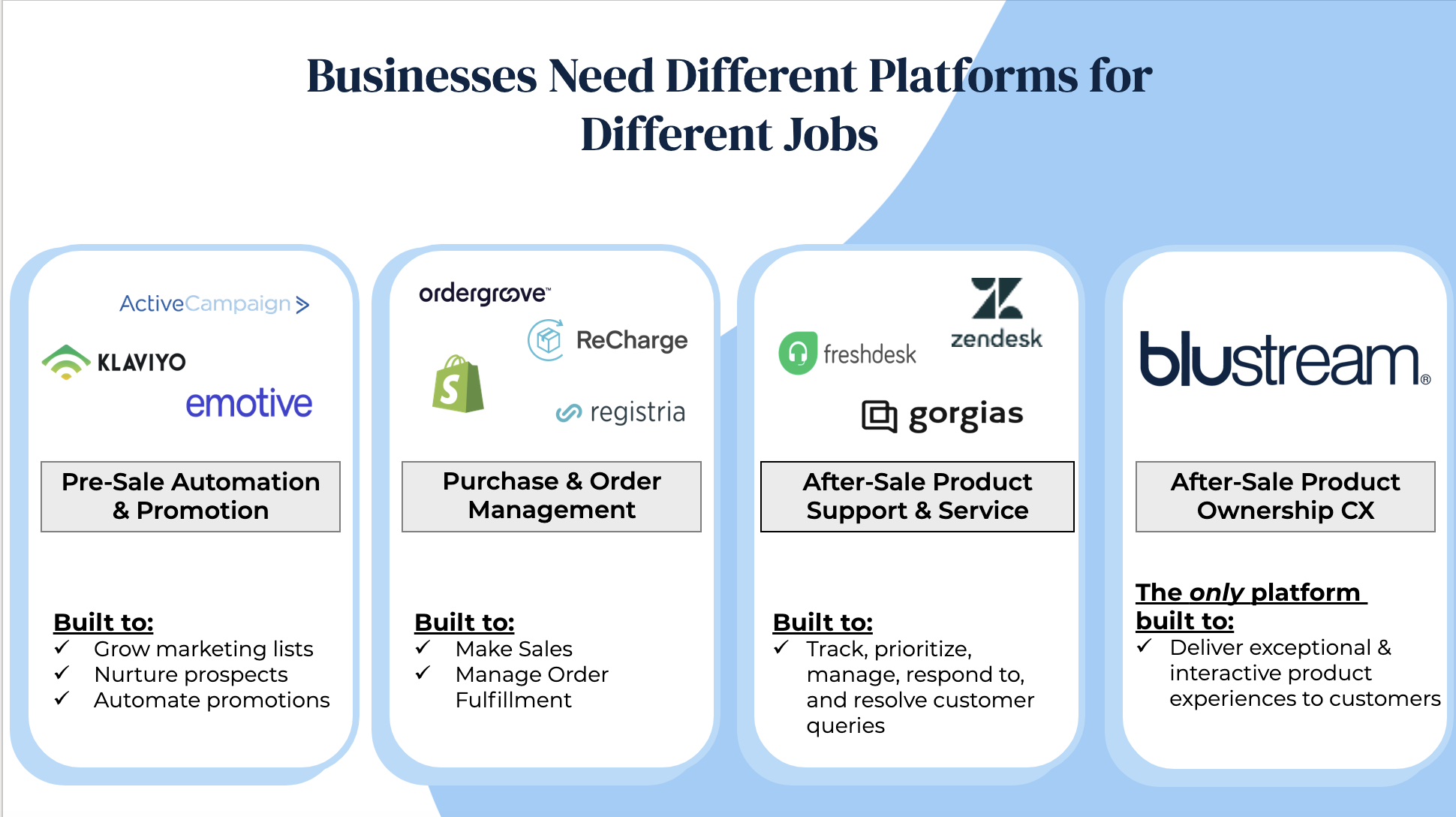 The Implications
Companies neglecting the importance of product ownership are in for a rude awakening. Lackluster retention combined with the skyrocketing cost of acquisition is a losing formula for business.
Reduced Customer Loyalty: Loyal customers spend 31% more on products.2 Neglecting the product ownership experience can result in disengaged customers who are very unlikely to become brand-loyal customers. Another costly consequence for businesses that don't prioritize product ownership? An increase in churn rates.
Missed Revenue Potential: Failure to engage customers after their initial purchase results in higher return rates and fewer cross-selling opportunities. Successful customers are more likely to repurchase and tell their friends. Simply increasing retention by 5% leads to an astonishing 25%-95% revenue boost.3
Negative Brand Perception: Conversely, a lack of product ownership experience can tarnish a brand's reputation. Unhappy and dissatisfied customers are more likely to share their negative experiences with a brand, whether through social media, the web, or word of mouth.
"The Leaky Boat": If companies neglect the product ownership experience, they are likely to get into a "leaky boat" situation. This occurs when a company continuously pays to gain more and more customers, but they simply keep "leaking" out the bottom, because there is nothing being done to retain those customers.
It is imperative to establish a roadmap for the future of the relationship with your customers. Ignoring this opportunity is akin to watching your customer base wither away.
Manage a Product Owner's Lifecycle in Concert with a Product's Lifecycle
Blustream is a product ownership CX company that believes every company should deliver exceptional product experiences to their customers. Our Product Assistant™ is an intelligent, adaptive messaging platform capable of sending personalized, automated messages to product owners at exactly the right time, throughout the entire ownership lifecycle. Blustream's patented technology automatically manages an owner's lifecycle in concert with the product's lifecycle. Consumer product and services companies across industries turn to Blustream to build innovative product experiences that drive revenue, retention and LTV.
With retention rates as high as 90%, engagement rates over 65%, and revenue increases of 20%+, it is clear that product ownership is the missing link in the marketing technology stack. Improve loyalty, realize revenue, and retain more customers.
Conclusion
In a world increasingly focused on the buyer's journey, businesses cannot afford to ignore the product ownership experience. While current marketing platforms excel in customer acquisition and promotion, they must evolve and adapt to support post-purchase product engagement. By investing in a Product Assistant, businesses can build lasting customer relationships, foster loyalty, and create brand advocates, thus driving sustainable growth and success in the market.
Give your products a voice. https://bit.ly/3zE5jNu
1Amy Gallo, The Value of Keeping the Right Customers (n.p.: HBR, 2014)
2Thought Leadership, Growing Loyalty Through Customer Engagement (n.p.: emarsys, 2023)
3Taylor Landis, Customer Retention Marketing vs. Customer Acquisition Marketing (n.p.: Outbound Engine, 2022)